PSD Leadership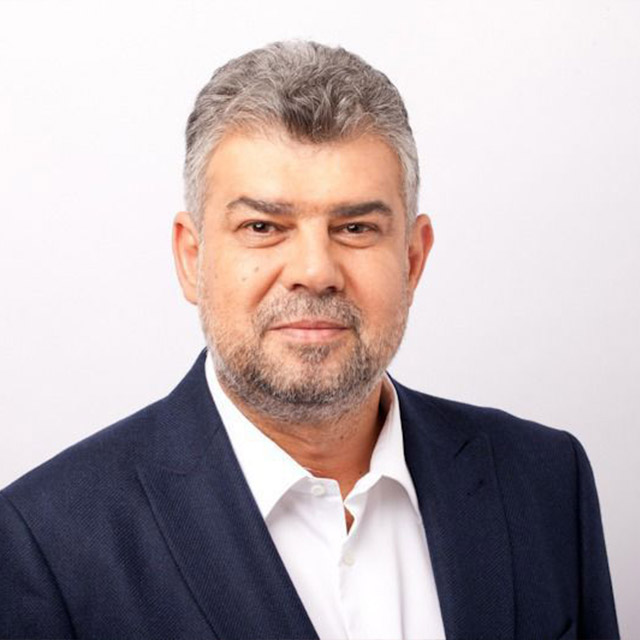 Marcel Ciolacu
Marcel Ciolacu is the President of the Romanian Social Democratic Party (PSD) and is President of the Chamber of Deputies, positions he has held since 2019 and 2020 respectively. Ciolacu led PSD into entering the current governing coalition, and is in line to become Prime Minister in May 2023 per the coalition arrangement.
Ciolacu has dedicated his career to public service. A graduate of the Faculty of Law, he also pursued a master's degree in public administration at the National School of Political and Administrative Studies and completed postgraduate courses in national security, economics, and administration.
Ciolacu gained his first high-ranking position in the public sphere as the interim prefect of Buzău county in 2005. In 2008, he was elected Deputy Mayor of Buzău municipality for a four-year term.

In 2012, he won his first mandate as a Deputy. In the 2012-2016 legislature, he was a member of the Committee for Information and Communications Technology and the Committee for Public Administration, and between 2014 and 2016, he was a member of the Permanent Bureau of the Chamber of Deputies.
In 2016, Ciolacu was re-elected as a member of the Romanian Parliament and in June 2017 he was appointed Deputy Prime Minister, remaining in office until January 2018. During his second term, he was appointed as leader of the Social Democratic Party parliamentary group in the Chamber of Deputies, and later as quaestor of the Permanent Bureau between 2018 and 2019. In 2018, he became the president of the Joint Special Commission of the Chamber of Deputies and the Senate.

Under his mandate, the Social Democratic Party has undertaken an extensive modernization process in accordance with widespread changes brought to Romanian society by the digitization of the economy, rising environmental and climate change concerns, the development of the circular economy and green industry, and transformed interactions between employees and employers.
Sorin Grindeanu
Sorin Grindeanu is the Deputy Prime Minister of Romania and has served in this capacity since 2021. His strong roots in local and national politics are modeled on his own father's commitment, determination, and civic mindedness.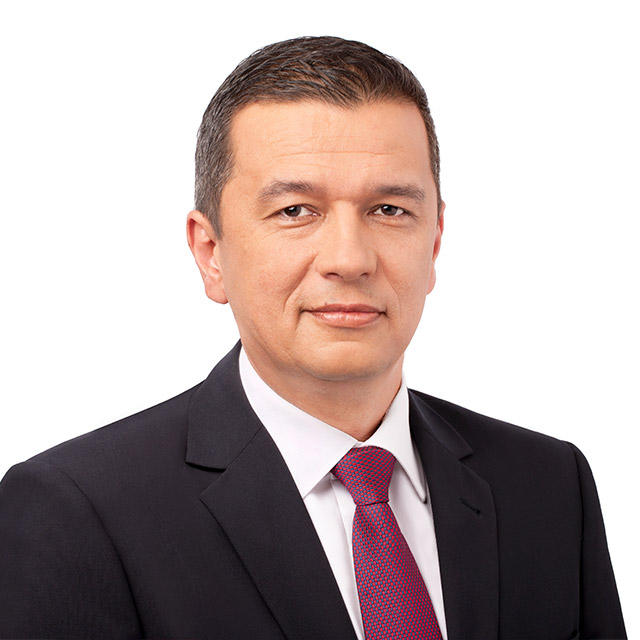 Grindeanu has been a PSD member since 1996 and progressed to become First Vice-President at the National Level. He also served as Vice President of the Timiș Youth Organization and Executive President of PSD Timiș County Organization.

In 2012, he obtained his first parliamentary mandate as a PSD deputy for Timiș, a position from which he resigned in June 2016 to serve as President of the Timiș County Council.

At the national level, Grindeanu held the portfolio of Minister of Communications and Information Society in the PSD Cabinet from December 2014 to November 2015. Grindeanu then went on to become the Prime Minister of Romania between January and June 2017, when he led the Government of Romania.

Later, Grindeanu managed the activity of the National Authority for Communications Administration and Regulation (ANCOM) and in 2020, he returned to politics after being elected as the Timisoara Deputy. Since November 2021, he has served as Deputy Prime Minister in the Ciucă Cabinet and coordinates, as minister, the Transport and Infrastructure portfolio.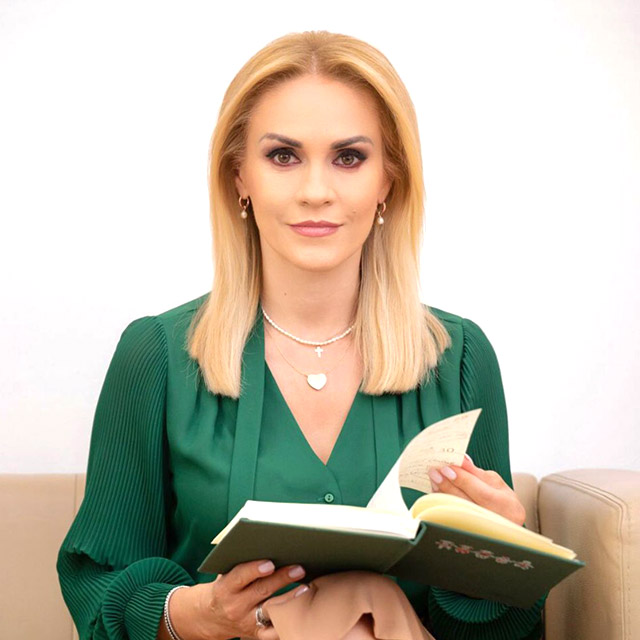 Gabriela Firea
Senator Gabriela Firea is Vice-President of PSD, a second-term Senator, and President of PSD Bucharest. She has a degree in philology from the University of Bucharest and is the former mayor of Bucharest.
Firea has been a leader in mass media and public administration over the course of 30 years. Throughout her career, she directly coordinated teams of over 1,000 people and over 40,000 employees in subordinate institutions. She began her professional activity in the industry during her time at Public Television, and then went on to work in the Antena Group Press Trust.

In 2012, Firea was elected to the Romanian Parliament as a senator. In 2016, Firea was elected as the first woman Mayor of Bucharest. As mayor, Firea initiated an ambitious city development and quality of life program. The program seeks to address 5 key objectives: to increase living standards in Bucharest, create more business opportunities, improve the economic sustainability of the capital, increase social development for Bucharest citizens, and turn the city into the driver of the Romanian economy.

Gabriela Firea has served as Minister of Family, Youth, and Equal Opportunities since 2021. In this capacity, Firea has led projects to support Romanian maternal health and birth rates and the Student Invest and Family Start state-guaranteed lending programs.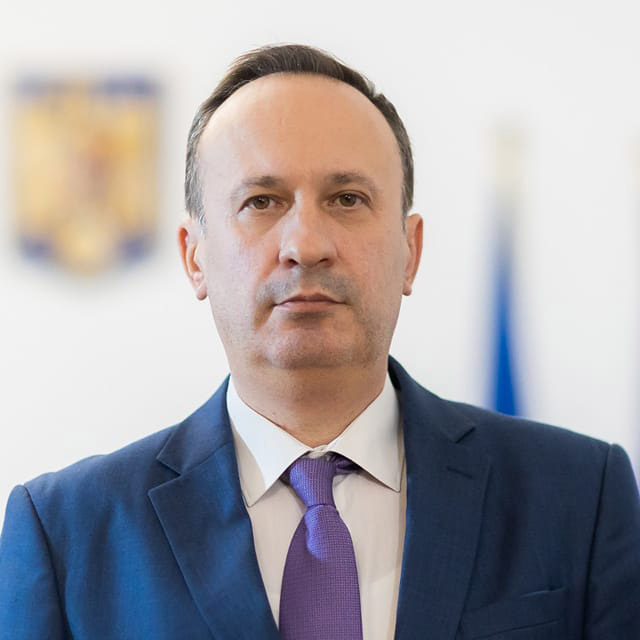 Adrian Câciu
Adrian Câciu has served as the Minister of Finance since his nomination in November 2021. An expert in macroeconomic analysis and fiscal-budgetary policy, Câciu has been a leading figure in the development of three governing programs of SDP.
Prior to his role as Minister of Finance, Adrian Câciu spent over 20 years working in central public administration in the State Domains Agency and the Ministry of Agriculture and Rural Development.
A native of Bucharest, Câciu graduated from the Gheorghe Șincai High School in Bucharest, studied Commercial and Financial Relations in Domestic and International Banking, and later obtained a master's degree in Rural and Regional Development Project Management.
Angel Tîlvăr
Senator Angel Tîlvăr is the recently appointed Romanian Minister of National Defense, a position he was nominated to in October 2022.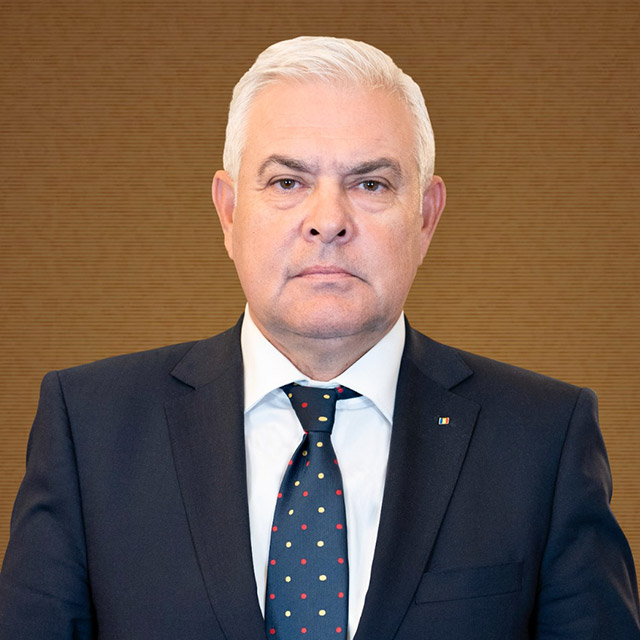 Prior to assuming the office of Minister of Defense, Mr. Tîlvăr had served as the Head of the Romanian Parliament Delegation to the NATO Parliamentary Assembly (NATO PA) since June 2022. Prior to this role, he had been elected to the role of Chairman of the Committee on Democracy and Security for the NATO PA in 2020.

Tîlvăr held several leading positions as a Deputy, including as the Chairman of the Committee on Education, Science, Youth and Sports and Chairman of the European Affairs Committee. In the Romanian Parliament, he was also a member of the Committee on Human Rights, Cults, and National Minorities; the Committee on Defense, Public Order, and National Security; the Committee on Culture, Arts, and Mass Media; and the Committee on Education.

Throughout his time in Parliament, Angel Tîlvăr advocated for active parliamentary diplomacy to achieve national objectives and commitment to NATO and European priorities. Mr. Tîlvăr had also acted as the Coordinator of the Parliamentary Group on Fighting against Human Trafficking and coordinated the release of a related report to the Romanian Parliament on a regular basis.
From December 2014 to November 2015, he was appointed Minister-Delegate for Relations with Romanians Abroad.

Prior to his career in politics, between 1985 and 2004 Angel Tîlvăr had a rewarding teaching career for almost two decades. Mr. Tîlvăr holds a Master's Degree in Political Sciences, and a PhD in Humanities (International Relations and History).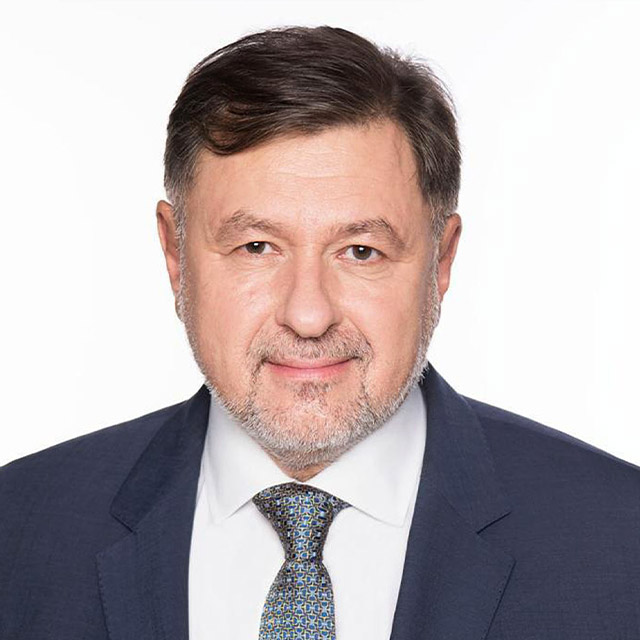 Alexandru Rafila
Dr. Alexandru Rafila is the Romanian Minister of Health and distinguished health professional in Romania and in the international health arena. Rafila assumed his position in the midst of the global pandemic in November 2021. Rafila has been active in Romanian politics and the Social Democratic Party for several decades and was elected to Parliament as a PSD member in December 2020.
Dr. Rafila received his medical degree in 1987 and attained a PhD in Microbiology in 2004. He has been a senior specialist in Microbiology and Public Health since 2000 and is a professor at the Carol Davila University of Medicine and Pharmacy in Bucharest. Dr. Rafila has authored numerous articles, manuals, book chapters, and guidelines for public health use and microbiology practice.
Dr. Rafila is the President of the Romanian Society of Microbiology and has served in the Government as Secretary of State, General Director for Public Health, and Personal Adviser to the Minister of Health. He also held the position of Director at the Institute of Public Health in Bucharest.
Outside of Romania, Dr. Rafila has been globally recognized as an expert in his field by organizations including the WHO, NATO, and the European Commission. He was a Member of the WHO's Standing Committee of the Regional Committee (SCRC) of Europe and its Executive Board. He also represented Romania in the Management Board of the European Centre for Disease Prevention and Control (ECDC).
Dan Nica
Dan Nica is a PSD member of the European Parliament and a former practicing engineer.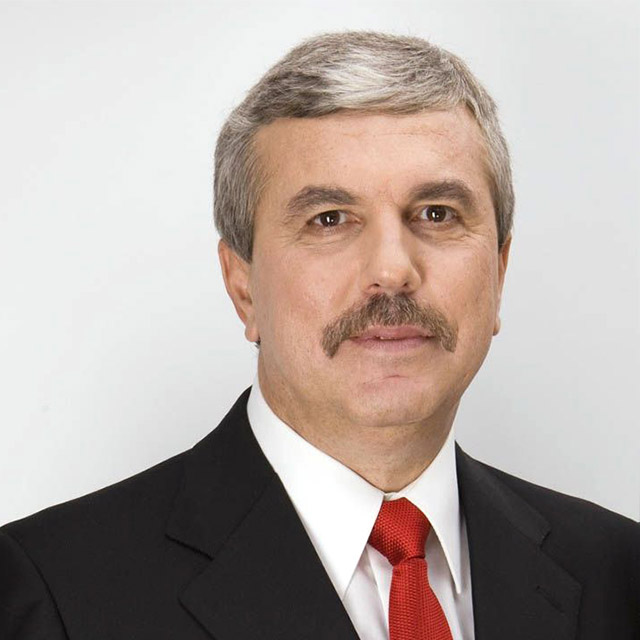 From 2000 to 2014 he held several ministerial positions in government, including Minister of Communications, Deputy Prime Minister, and Minister of Administration and Home Affairs. He also served four terms as a Member of the Romanian Parliament. Serving as a Member of the European Parliament since 2014, Dan Nica is the S&D coordinator for the Committee on Industry, Research, and Energy, Vice-Chair for the Delegation for relations with Japan, Vice-Chair for the Delegation to the ACP-EU, a member in the Delegation for relations with the United States, has been the head of the Romanian S&D delegation since 2018.

Nica has been the European Parliament Rapporteur for Horizon Europe within the Research and Innovation Framework Program, and he is currently the rapporteur for the Chips Act regulation. Dan Nica graduated from the Electronics and Telecommunications Faculty of the University of Iași and holds a Ph.D. in Communication Sciences.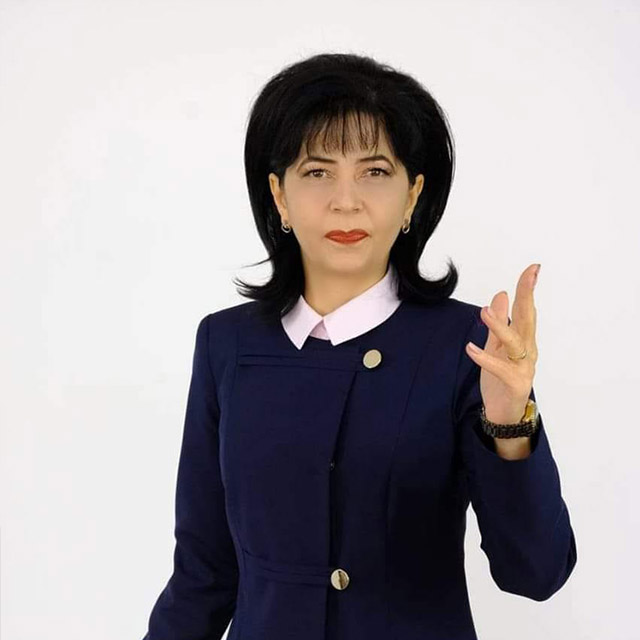 Doina-Elena Federovici
Doina-Elena Federovici, the first woman elected as Senator for Botoșani County, now serves as the PSD Vice President for Regional and Local Development and the President of the National Organization of Social Democratic Women. Since 2021, she has served as an elected member of the Congress of Local and Regional Authorities in Europe (CPLRE), whose mission is to promote territorial democracy, improve local and regional governance, and strengthen the autonomy of local authorities.
Federovici has a background as a public administration specialist and a master's degree in legal sciences from the Alexandru Ioan Cuza Police Academy in Bucharest, with a specialty in human rights and constitutional justice. She also attended postgraduate courses on the management of local public administration at the Academy of Economic Studies.
Doina-Elena Federovici first became involved in local politics at age 20 and gradually rose in the hierarchy of the Botoșani county organization of the Social Democratic Party. At the national level, Federovici is recognized as a pragmatic leader capable of implementing ambitious initiatives for social and national welfare.
During her two terms as a Senator, she held several positions, including that of Quaestor and Vice President, as well as President of the County Council. In the latter role, Federovici initiated multiple projects for Botoșani county which have contributed to the development of the region.
Victor Negrescu
Victor Negrescu is the Vice-President of PSD Romania, Vice-President of the Party of European Socialists (PES), the President-National Coordinator of PES Activists Romania, and a Member of the European Parliament from 2020 to the present.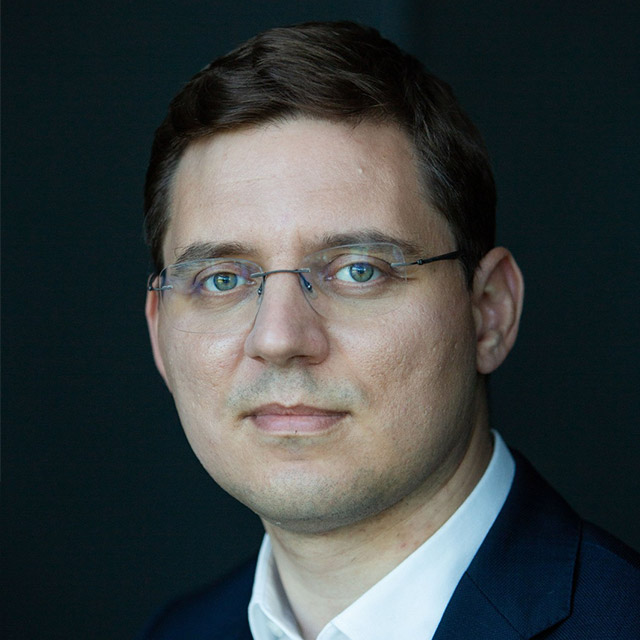 Negrescu studied in Belgium and France in high-school and earned a bachelor's in political science at the University of Bucharest, an MA in European and International Affairs at the University Pierre Mendes France – IEP Grenoble, an MBA at the Academy of Economic Studies – CNAM Paris, and a magna cum laude Ph.D. in international relations at the National University of Political and Administrative Studies at the European College of Bruges. Negrescu was also part of a State Department program on U.S. elections and political systems and completed an online program 'Leaders of Learning' at Harvard University.

While in France, Negrescu actively engaged in student rights movement and the French Socialist Party and continued his activism once back in Romania, which eventually led him to become a member of PSD.
Victor Negrescu aided the creation and development of the Romanian network of PES activists—a PSD organization gathering more than 10,000 members interested in European issues and politics, international issues, and doctrinal topics.

He is also the founder of the Romanian Foundation for a Democratic Left and held several political positions in PSD Romania before becoming a Member of the European Parliament (2014 – 2017) and the Minister for European affairs in charge of the preparation of the EU Council Presidency (2017 – 2018).

Victor Negrescu began his professional career as a journalist at Radio France Internationale, collaborating with the prestigious magazines Le Monde Diplomatique and Regard. He also worked as an advisor for several high-ranking officials and held various positions in the private sector. Negrescu also teaches as a university lecturer at the National University of Political and Administrative Studies, where he was also a vice-rector in charge of European relations (2018-2020) and created two MA programs and research institutes focused on development cooperation and digital policy.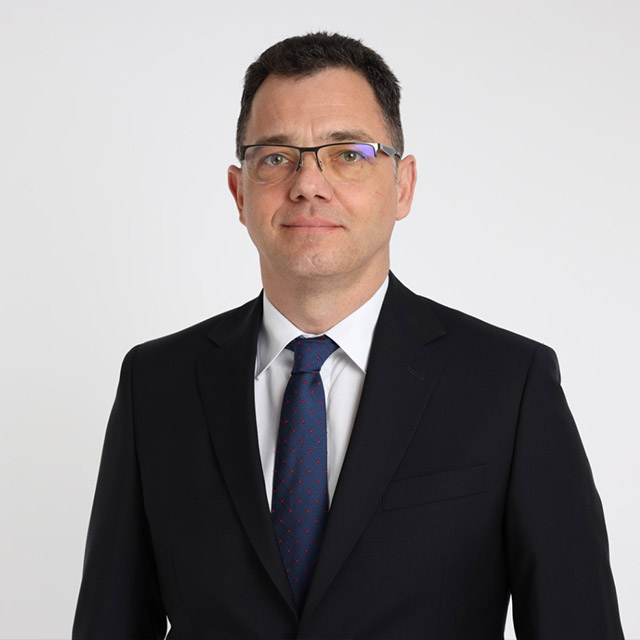 Ștefan Radu Oprea
Senator Stefan Radu Oprea is the Spokesman of the Social Democratic Party of Romania and the Leader of the PSD Senatorial Group.
Oprea graduated as an engineer from the Oil and Gas University of Ploiesti and pursued a Master's program in public administration in the National Institute of Administration. He also engaged in several postgraduate courses in national security and diplomacy. Oprea began his career as a young entrepreneur while he was still a student, establishing a number of companies in the construction field.

In 2009, Oprea began his political career as Governor of Prahova County. In 2012 he officially left behind his career in business and won the general election in his constituency to become a member of the Senate. During his first mandate in 2016, he chaired the Strategy and Development Committee.

He was re-elected Senator in 2016 and 2022. In his second term, Oprea served as Vice-Chair of the Economic Committee between January–August 2017 and Secretary of the Standing Bureau of the Senate. In February 2018, he was appointed as Minister for Business Environment, Trade and, Entrepreneurship. Since December 2019, Oprea served as Secretary of the Defense Committee of the Senate.

Additionally, Oprea had been Vice-President of the Senate between December 2020–August 2021, Quaestor from September–November 2021 of the Standing Bureau of the Senate, and the leader of PSD Senators since November 2021. He is currently an alternate member of the Romanian Parliament Delegation to the NATO Parliamentary Assembly.
Robert Marius Cazanciuc
Senator Robert Marius Cazanciuc is the Vice-President of the Romanian Senate and chair of PSD's Ethics Committee since 2020. Cazanciuc also served as the Romanian Minister of Justice from 2013 to 2015.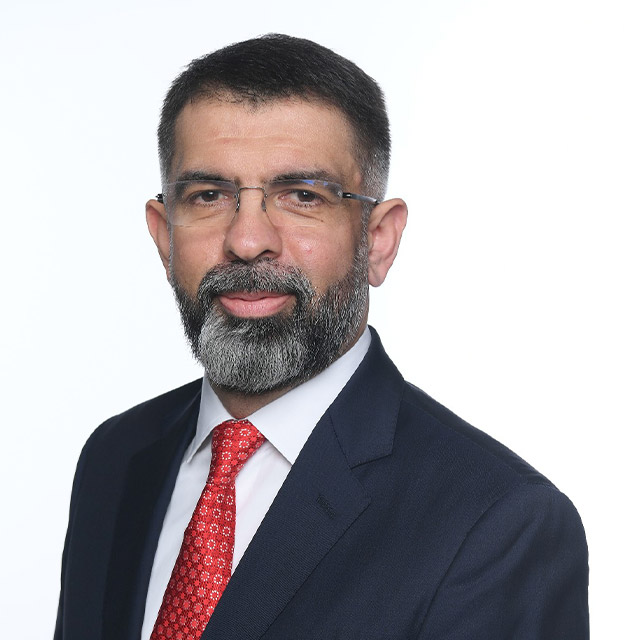 He graduated from the University of Law in Bucharest in 1995, the National Institute of Magistracy in 1996, and went on to engage in several programs in France, Germany, and the United States. 
Cazanciuc started his political career as a prosecutor in a county prosecutor's office and then in the Prosecutor's Office of the Supreme Court of Justice. From 2001–2004, Cazanciuc was Director General and Under-Secretary of State within the Prime Minister Control Department coordinating the team that drafted the Accord for Administrative Cooperation with OLAF – the European Antifraud Office.

In 2004, Cazanciuc was appointed State Secretary for the Department for Programs Implementation and Structural Adjustment and in 2005, Deputy Director General of the National Administration of Penitentiaries. He was Secretary General of the Ministry of Foreign Affairs between 2009–2013.

As Minister of Justice, Cazanciuc launched the most important investment process in justice infrastructure, including the Justice District in Bucharest, and launched a major mass-education program for citizens on justice. Meanwhile, Cazanciuc developed the concept of "Justice for Business" – a system of specialized courts and judges for commercial procedures.

In 2016 and 2020, he was elected as a PSD Senator and has been a Member of the Commission for Equal Opportunities, the Committee on European Affairs, and the Committee on Legal Affairs. He was appointed Acting President of the Romanian Senate in 2020.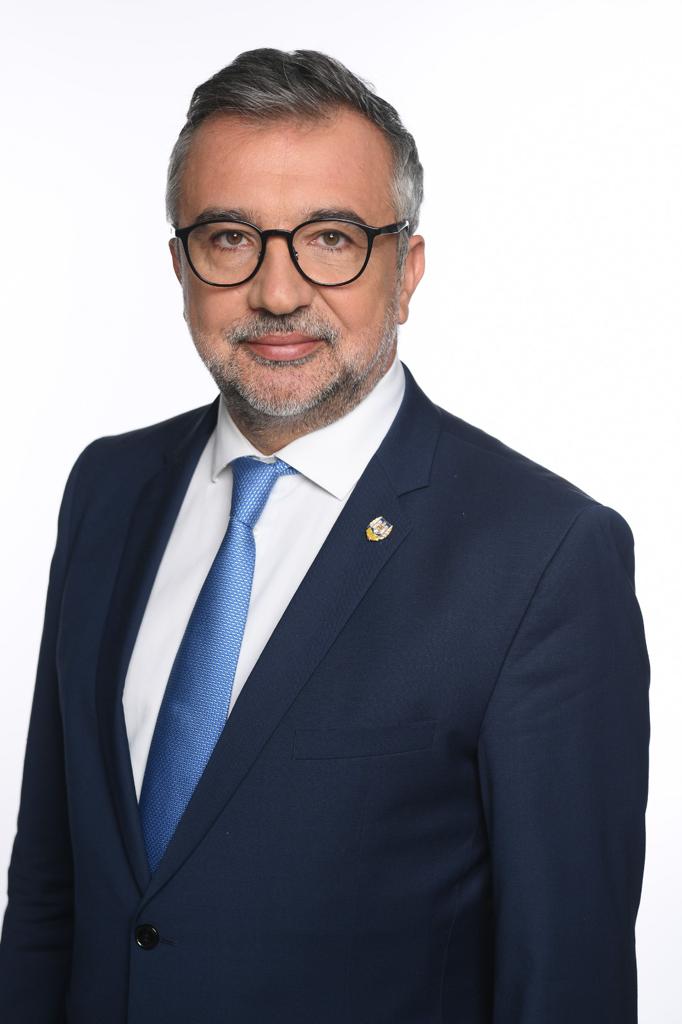 Lucian Romașcanu
Lucian Romașcanu is the Romanian Minister of Culture, currently serving his second term. He previously served in this position from July 2017 to January 2018.
Romașcanu is also in his second term in the Romanian Senate as a member of the Social Democratic Party (PSD).
He has held several leadership positions in the Senate including as Leader of the PSD Senatorial Group from 2020-2021, Chair of the Committee of Culture and Media in 2017 and 2019-2020, President of the Romanian Parliament Delegation to the OSCE PA, 2018-2020, and Vice-Chair of the Committee for the Environment in 2018. He is also a former PSD Spokesman.
Prior to public service, Romașcanu worked in the private sector for almost 20 years as a leader in both Romanian and foreign media companies, including as Management Advisor to the President of the Romanian National Television.
Lucian Romașcanu holds an Executive MBA degree from the University of Washington, Seattle/Asebuss Bucharest and a Bachelor of Business Administration from the Bucharest University for Economic Studies.
Romașcanu speaks fluent English and French.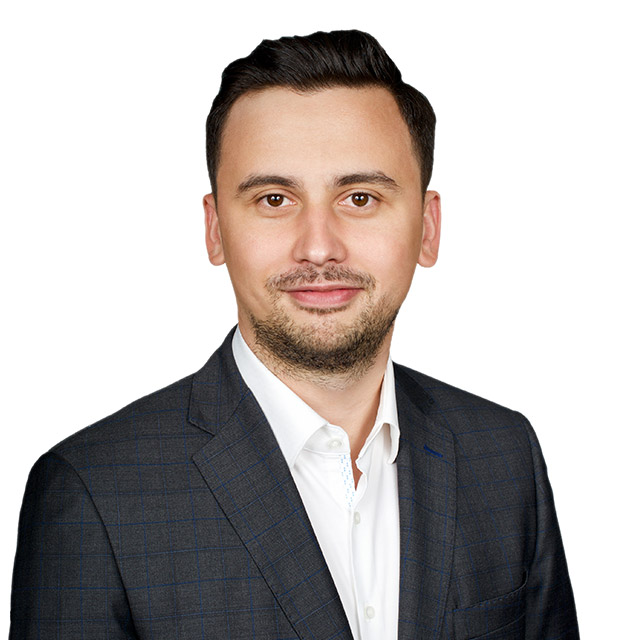 Mihai Ghigiu
Alexandru-Mihai Ghigiu has been a member of the Social Democratic Party (PSD) since 2007 and currently holds the position of Acting President of the PSD – Youth Branch (TSD). Dr. Ghigiu maintains an interest in social-democratic values, promoting policies to expand access to quality education, equal rights, and social justice. Currently, Dr. Ghigiu is the President of the National Institute of Administration (INA).
Dr. Ghigiu holds a PhD in Political Science from the National University of Political Studies and Public Administration (SNSPA) and has taught courses in European policy since 2012. He was appointed Vice-Rector of SNSPA in 2018 and served in this position until he was appointed President of INA. Dr. Ghigiu has attended several training courses in Europe and the U.S., such as Universidad Complutense – Madrid (2013); École Nationale d'Administration (ENA) – Paris (2014); ETH – Swiss School of Public Governance – Zurich (2018); Kennedy School – Harvard University – Cambridge – USA (2017 and 2018), and other similar programs.

Previously, Ghigiu served as Senior Advisor to the Romanian Minister of National Education (2012-2014, 2016) and Deputy Minister in the General Secretariat of the Romanian Government (2017).
Dr. Ghigiu has also been a member of the Board of the Romanian – US Fulbright Commission since August 2019.
EP Group
PSD Representatives in the European Parliament
PSD has ten elected Members of the European Parliament, the EU's only directly elected institution. The PSD MEPs work in collaboration with other Romanian MEPs and the S&D coalition to advance the voice of Romania in the EU.
PSD has established several communities within the party organization to coordinate groups that are critically important to the future of Romania that have been historically underrepresented.
Social Democratic Youth (TSD)
TSD encourages youth participation in political activities and provides a platform for youth to influence PSD policy. The group conducts analysis of youth issues in Romania, provides feedback and articulates the priorities of young Romanians to PSD leadership, and conducts events and trainings to drive youth engagement in politics.
Social Democratic Women's Organization (OFSD)
OFSD is the women's political organization of PSD, which ensures representation and participation by women in all political, economic, social, and cultural initiatives by PSD. The group analyzes PSD policy recommendations to ensure the party is pursuing political, economic, social, and cultural policies that are beneficial to ensuring equality for women.